As an Amazon Associate we earn from qualifying purchases.
Selecting a new DSLR camera lens for your Nikon D5300 can be confusing and overwhelming, especially if you are a beginner. It allows you to think about what genre of photography you want to focus on and what features you need to look for to get the desired results. 
Before buying a lens, you need to check the specs, features, and ease of operation. Even though the Nikon D5300 is an impressive DSLR camera, it falls short on some features, which is why it is better to get a lens that can compensate for that and help with the camera's performance. 
What Lenses Are Compatible With Nikon D5300?
The Nikon D5300 has a slow autofocus feature, so it is best to get a lens that has a fast autofocus system so that you can take photos of your subjects better. 
Currently, 47 lenses are compatible with the Nikon D3500, with some of them manufactured and distributed by different camera brands. The focal length of the lenses that are best paired up with the Nikon D5300 camera ranges from 35mm to 200mm. 
Best Lenses for Nikon D5300
The Nikon D5300 is a very popular camera among hobbyists and professional photographers because it can produce high-quality images and high-definition videos, plus it is a great tool to hone your photography skills. The camera can work wonders on your content thanks to its amazing features and incredible specs. 
When the Nikon D5300 is paired with the correct type of lens, it will let you capture beautiful images, and you can even use it for other genres of photography. 
The  Nikon 35mm f/1.8 lens lets you shoot in low light areas like indoors or at night, thanks to its wide aperture. It also creates sharper and clearer images. 
The lens produces a beautifully blurry background, making it ideal for portrait photography. Since it has a fixed focal length of 35mm, what appears on the photo is exactly how the subject appears in person. 
The Nikon 50mm f/1.4 is another Nikon lens that is great in low light conditions. Its aperture can go as low as f/1.4, and its fixed focal length is longer because it can reach up to 50mm. 
Since the Nikon D5300 has a slow autofocus system, the Nikon 50mm f/1.4 can make up for it because its built-in autofocus feature is fast and quiet, so you can discreetly take photos of your subjects. 
The Nikon 55-200mm f/4-5.6 has a fast and silent autofocus system that is built into the lens. Although its f/4-5.6 aperture is very narrow and can't be used in low-light areas, it has an excellent performance in brightly lit areas.
With its vibration reduction feature, you can confidently zoom in on your subjects while doing handheld photography. The lens can go as far as 200mm, so it can be used for concerts, events, sports, and wildlife photography. 
Types of Nikon D5300 Lenses
The types of lenses that you get for your Nikon D5300 camera must depend on its specs, aperture, features, focal length, and the kind of photography that you want to do. 
Lenses that have a focal length of 50mm are called normal lenses. This is because their viewing angle is the same as the viewing angle of the human eye. 
The normal lens is usually included in the starter kit because it can serve as a practice tool for those new to photography. 
Wide-angle lenses can put your subject nicely in the background without changing the quality of the picture. The image stays clear, and the background has a nice and beautiful blur.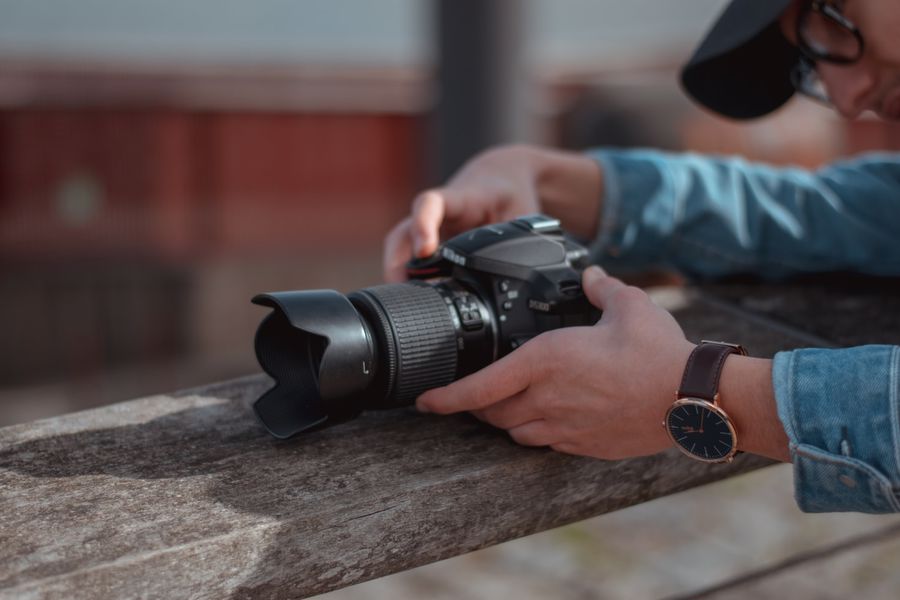 Since the lens has a wide viewing angle, you can cover more scenery than the normal lens. It can also make the surroundings of your subject larger than their actual dimensions. 
Telephoto lenses can capture subjects even if they are far away from you. The focal length of telephoto lenses can go as far as 300mm.
Telephoto lenses can also let you capture sharp images even from a distance. It is a great lens for events, concerts, wildlife, and sports photography. 
Related Questions
Is Nikkor the Same as Nikon?
The Nikkor brand is a subsidiary of Nikon. It was established in 1932, and it focuses on lenses for Nikon cameras. The Nikkor lenses are created for Nikon's F-mount cameras. 
All Nikkor lenses are under Nikon, but not all Nikon cameras are under Nikkor. 
What Does AF-S on Nikon Lenses Stand For?
The AF-S on your Nikon lenses means "silent autofocus" because the wave motor for the autofocus feature does not produce any sound when used. 
AF-S lenses have fast, super quiet, and accurate autofocus operation, so it is ideal for taking pictures of live subjects. 
Conclusion
The Nikon D3500 is a DSLR that can deliver amazing results, which is why it is preferred by both professional photographers and amateurs. If the camera is connected to the correct lens, you can get high-quality images and videos.
The ideal lenses for the Nikon D3500 are very easy to find. There are lenses available for almost any situation. With enough practice and effort, the lenses can be used to get the most out of your camera.