As an Amazon Associate we earn from qualifying purchases.
The term professional camera is plastered on almost every selfie stick. But what does "professional camera" really mean?
Professional photographers need a list of high-quality cameras with advanced features in order to produce beautiful results. Although there are hundreds of cameras available in the market, some are more suited for professional photographers. 
If you are thinking of pursuing a career in photography or if you just want the same camera and accessories as professional photographers, you can check out the best cameras in the market that will help you achieve your goal.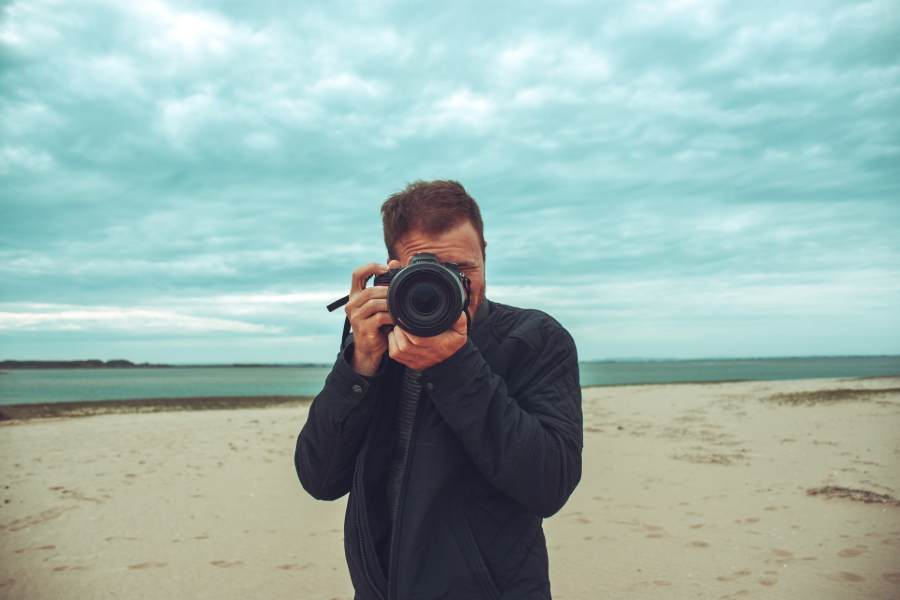 What Kind of Camera Do Professionals Use?
A lot of professional photographers use high-end Nikon or Canon DSLRs. Most of them use the Canon EOS 5D Mark IV, or they use the Nikon D850 DSLR camera. These are the highest-rated cameras as they are built to create incredible results.
Both cameras have more than 30MP, fast and quiet autofocus, 4K high-definition video recording, amazing ISO sensitivity, and impressive frame rates. 
Aside from those two cameras, there are other excellent options that you can choose from depending on the results that you want. 
Canon EOS 5D Mark IV
The Canon 5D camera features cutting-edge technology. It has a 30.4MP full-frame sensor and an impressive 4K video output. It gives professional photographers clear and crisp images in every single shot. 
With its high-speed DIGIC 6+ processor and readout technology, you can capture images at 7 fps at full resolution. It has an ISO range of 100 to 32000, and it is combined with noise processing algorithms to improve shooting in low-light areas. 
For videographers, the camera can deliver 4K shooting up to 30 fps, and it can extract 8.8MP JPEG images from high-definition videos. 
The camera's autofocus covers an expanded sensor area, and it can deliver focus at EV-3 in viewfinder shooting mode. With its built-in Wi-Fi feature, you can work on the camera remotely, and you can easily transfer files securely using Canon's app on your phone. 
Reasons to love the camera:
High-quality images
Amazing autofocus feature
Great in low light photoshoots
 Nikon D850 DSLR 
The Nikon D850 has a 45.7MP sensor that is back-illuminated, giving every picture a rich and sharp detail. 
The camera is equipped with an EXPEED 5 image-processing engine, and it has an ISO reach of up to 25,600. This can result in exquisite detail even when you take pictures in the most compromising conditions. 
Aside from its amazing image quality, the camera has an autofocus system with a 153 point. It will allow you to freeze all of the detail with its precision focus. The autofocus system is compatible with the camera's burst shooting mode, which goes 9 frames per second. 
As for videographers, they will be pleased with the camera's ability to film full-frame 4K UHD videos all at 30p. It can result in beautiful film quality no matter what the lighting condition is, especially when an FX-wide angle lens is connected to it. 
Reasons to love the camera:
Huge megapixel count
Multimedia camera
Amazing performance even in low light conditions
Photography Equipment Professionals Need
The difference between beginners and professional photographers is the amount of equipment they carry when doing a photo shoot. 
Professional full-time photographers are prepared for any situation, and they have the equipment to help them shoot in any condition.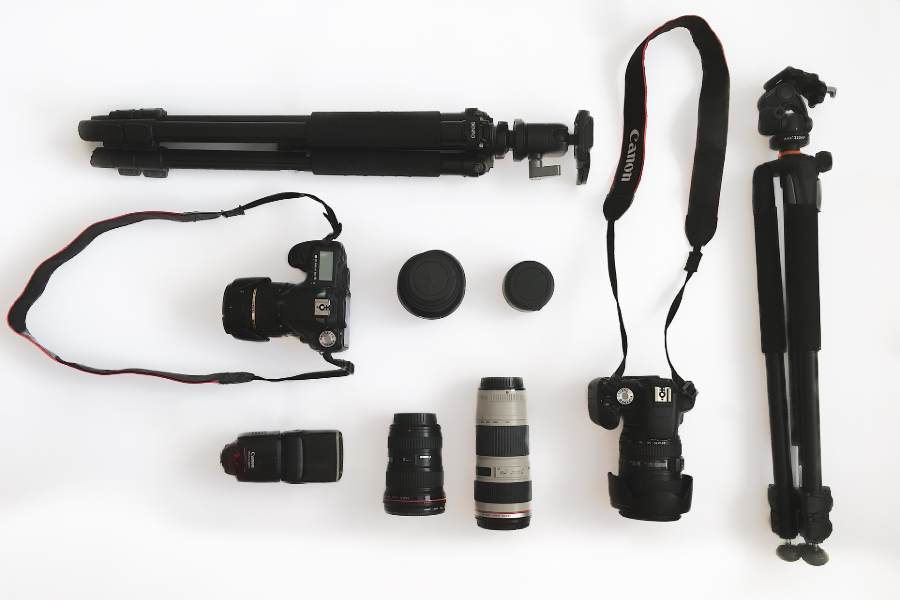 Tripods are a very reliable accessory as it helps you set up your camera quickly. It is used when you need long exposure or if you think a composition will happen. It also allows you to film and take pictures confidently because you don't have to carry the camera for hours. 
Every professional photographer has an extra battery inside their camera kit. This is because photographers do not want to lose battery at an important moment. With extra batteries, you are ensured that the camera is charged the whole time. 
Professional photographers have at least four memory cards, especially when gearing up for a photoshoot. All contents are stored in memory cards, and having spares allows you to take as many pictures and videos as you can. 
Related Questions
What Does EOS Stand For in Canon Cameras?
The EOS on Canon means Electro-Optical System. The EOS is a mirrorless camera series manufactured by Canon, and it has an autofocus single-lens reflex feature.
However, like the other names of Canon's cameras, the EOS is just a brand name, and its features and specs are basically the same as the rest of its mirrorless camera lineup. 
Is the EOS Camera Different From the SLR Camera?
The Electro-Optical System or EOS and Single Lens Reflex or SLR are the most common acronyms in photography. The SLR is the mechanism wherein a single lens is used for taking pictures and for viewing pictures via an LCD screen. 
Meanwhile, the EOS was launched by Canon, which refers to its series of mirrorless cameras built for capturing images and filming videos. 
Conclusion
A photographer can't function without a good camera. Numerous cameras on the market can cater to the needs of both hobbyists and professional photographers. 
Whether it is based on the quality, feature, specs, or purpose of use, the camera you choose to work with will depend on your preference.