As an Amazon Associate we earn from qualifying purchases.
The market is full of DSLR cameras and lenses, and determining what to buy all depends on what your needs are. Buying a camera and lens for the first time can be overwhelming. Not only because of the choices you have to make, but also because you need to be sure of the lenses you want.
If you intend to get a DSLR camera, then you will need to find a lens that's compatible with it. But, just how many types of DSLR lenses are there to choose from?
How Many Types of DSLR Lenses Are There?
There are 11 types of DSLR lenses available that can work with your camera. This includes:
Kit lenses
Prime lenses
Zoom lenses
Normal lenses
Telephoto lenses
Super telephoto lenses
Wide angle lenses
Ultra wide angle lenses
Fisheye lenses
Macro lenses
Tilt shift lenses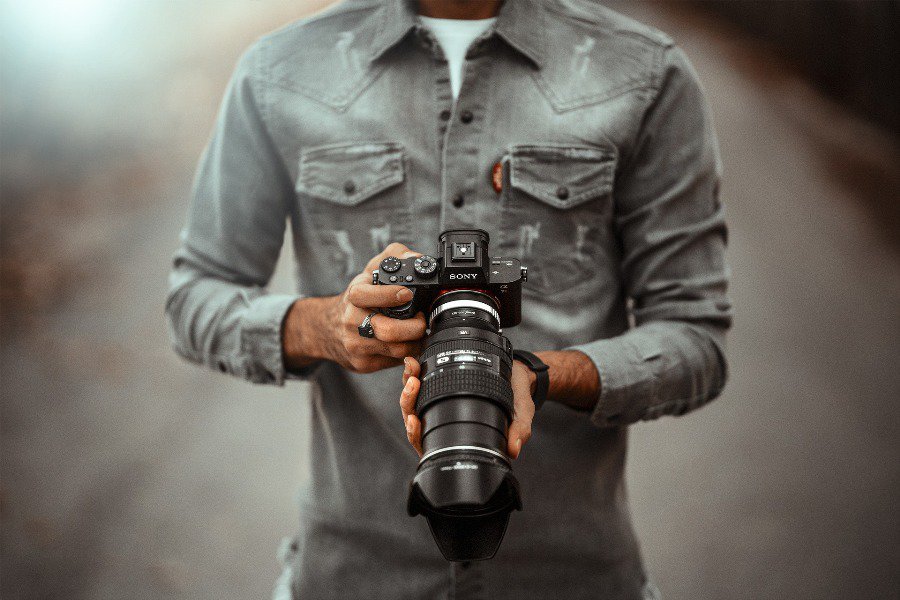 Kit Lenses
A kit lens is commonly the first type of lens a photographer owns, especially when starting out. They are referred to as 'kit lenses' since they mostly come with the camera and in most cases contain the 18-55mm lens. They have a variety of apertures and have a moderate focal range.
These lenses are mostly used to capture landscapes, architecture, and general photography. For a starter lens, kit lenses are great to have. Once you plan on getting paid for shoots though, you will want to upgrade to a more professional lens.
Prime Lenses
Prime lenses are famous for their unique characteristic where they have a fixed focal length. Basically, with this type of lens, you can't zoom in and out. Because they have a fixed focal length they are faster and create sharper images than zoom lenses.
Typically, they are also lighter than zoom lenses because there are not as many mechanics within the lens (since you can't adjust the focal length). Prime lenses also have the advantage of having wider apertures. Some primes can open up to f/1.2, giving you a shallow depth of field.
Zoom Lenses
Zoom lenses offers the opposite of what a prime lens does. The fact that it can offer its user a wide range of focal lengths in one lens makes it quite versatile in use. It allows you to easily reframe the scene and capture it in different ways without moving around.
They have been known to be good for portraits, wildlife, and weddings. With it, you don't need to carry many other lenses. One of the most common zoom lens used is the 70-200mm lens.
Normal Lenses
A normal lens is essentially equivalent to what you can see what your eyes. A camera lens that falls into this category is a 50mm prime lens – what you see in the viewfinder is "true to life" when you compare it with what you see when not looking through the camera.
Normal lenses are great for portrait photography and photojournalism because of how they provide a natural viewpoint to the scene in front of you.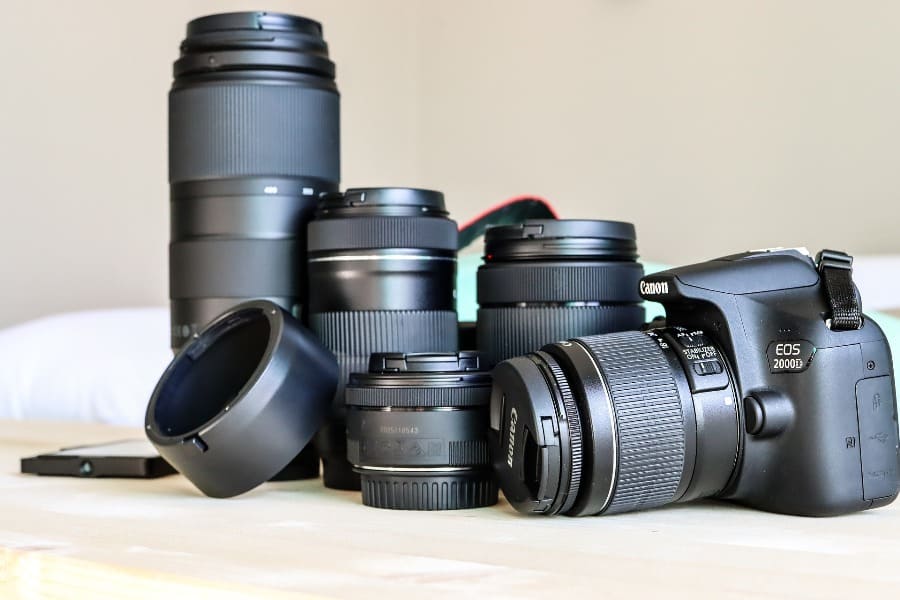 Telephoto Lenses
A telephoto lens is quite versatile. It is preferred by those who intend to shoot subjects that are far away. They can easily zoom in and bring an object close without compromising on image quality.
Photographers who love nature and wildlife photography use this type of lens. Telephoto lenses are also used in sports. These lenses typically range from 70mm up to 400mm.
Super Telephoto Lenses
If a standard telephoto lens does not zoom in enough for your needs, you can look into buying a super telephoto lens. These generally start at 400mm and can go up to 2000mm. For most photographers, having a super telephoto lens is overkill. Additionally, these lenses are on the expensive side, due to how much they can zoom in.
Wide Angle Lenses
Going in the opposite direction of telephoto lenses, wide angle lenses allow you to capture a wider field of view within the frame. You can get wide angle prime lenses such as a 14mm or 24mm, or you can opt for a zoom wide angle lens like the 16-35mm.
Wide angle lenses are popular lenses for real estate and architectural photographers, along with those shooting landscapes.
Ultra Wide Angle Lenses
As the name suggests, these lenses have a wider angle of view than standard wide angle lenses. Ultra wide lenses can be found reaching 9mm, allowing you to capture a large portion of what you see in front of you.
It's important to note that there is a difference between ultra wide angle lenses and fisheye lenses. While there will be distortion in ultra wide angle lenses, they try to minimize it as best possible. Fisheye lenses, on the other hand, embrace the distortion and use it as a unique feature for that type of lens.
Fisheye Lenses
This lens is mostly used in abstract photography. This is due to its wide focal length and how it tends to distort images. Often times, security cameras will use a fisheye lens because it allows the camera to capture a wider range of the scene in one frame. Fisheye lenses range from 9mm to 15mm.
You can either get the circular or diagonal fisheye lens depending on how much of the subject's periphery you want to capture. Generally, fisheye lenses are not used in professional settings due to their abstract image results.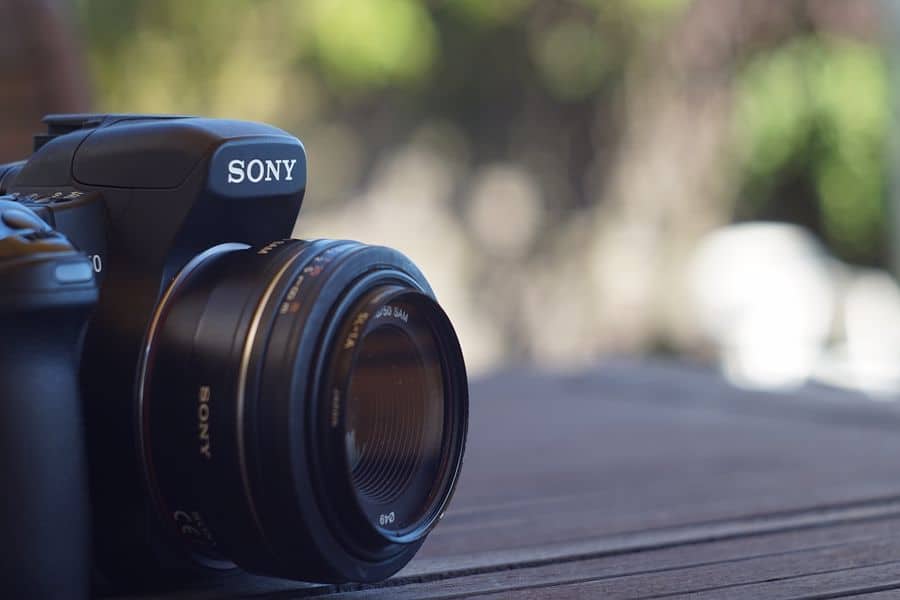 Macro Lenses
Macro lenses are ideal for close up, detail photos. They allow you to get extremely close to your subject and focus in on the smaller details that you can't easily capture with other lenses. A popular macro lens is the 100mm lens f/2.8 aperture, and it's common to use this for detail shots at weddings and for nature photography.
Due to its sharpness and focal length, macro lenses can also be used as portrait lenses. This is not the original intent for macro lenses; however, you can still take some beautiful portraits with this lens.
Tilt Shift Lenses
Tilt shift lenses are specialty lenses that are not the most common for photographers to use on a daily basis. Simply put, a tilt shift lens is a lens that you can physically tilt and rotate to change your plane of focus.
Because you can manually select the specific area of your frame that you want to be in focus, tilt shift lenses do not have an autofocus feature.
You can get very creative with a tilt shift lens, and one way that photographers use them is by taking several individual photos of a certain scene and then stitching them together for one large panoramic shot.
Frequently Asked Question
Which Lens is Best for a DSLR Camera?
Every photographer has a preference on what type of lens he or she prefers. Despite all these variances, the Sigma 18-35mm f/1.8 has been and still is a favorite to many. This is simply because of its aperture, exposure, and the quality of images it can capture. It's an option that's available for brands like Sony, Canon and Nikon.
Conclusion
Purchasing a DSLR lens should be done once you have established the type of photography you want to specialize in so that you can buy the right types of lenses. You should also consider buying DSLR lenses that can serve more than one purpose so you can use them in multiple situations to capture clean, sharp, detailed pictures.