As an Amazon Associate we earn from qualifying purchases.
A wedding ceremony is the most memorable event in a person's life. When you are shooting a wedding, you need a few good lenses to work with. Using the best lenses for wedding videography will let you capture all of the important moments of the ceremony down to the smallest details. 
Our Top Lenses for Wedding Videography Reviews
There are numerous types of lenses used for wedding videography. A lot of photographers, even professional ones, are attracted to so many lenses that they end up with a collection that they don't even get to use. 
You don't need to have a whole bag of lenses to deliver results; you just need the best ones. Here are the best lenses for wedding videography that we recommend purchasing.
Product
Product
Product
Product
Sony FE 70-200mm f/2.8
The Sony FE 70-200mm f/2.8 is big, bulky, and a bit heavy. It measures 3.46 x 7.87 inches and weighs 3.26 pounds, and even though it is a bit difficult to carry around with you, it is the lens that gives the best videography result.
The lens is versatile and gives amazing sharpness at all focal lengths. Videographers do not have to stay close just to capture the candid expressions and serendipitous moments; it can be done from a fair distance. 
The Sony FE 70-200mm f/2.8 is very useful, especially during the wedding ceremony when videographers need to be far away and need to capture the exchange of vows, the exchange of wedding rings, and the kiss discreetly. 
The lens has optical image stabilization, so it can be used for handheld videography. However, it still shows a bit of distortion, so be careful not to be too shaky. It has an autofocus and manual focus override, and the ring is smooth and comfortable to touch. It is also weather-sealed, so it is perfect to use outdoors.
Pros:
Produces sharp images
Weather-sealed and can be used outdoors
The very smooth focus ring
Equipped with image stabilization
Cons:
It shows a bit of distortion when the camera shakes
It is heavy, so a tripod needs to be used when filming
Expensive
Rokinon Cine 35mm 
When it comes to lenses with a 35mm focal length, the Rokinon Cine 35mm is the best one for wedding videographers. It comes with a fixed focal length and is the best prime lens for videography.
The image is sharp, and the focusing is smooth when the camera is in motion. The focusing time is fast, and it lets you capture every single detail during the entire event.
The Rokinon Cine 35mm has a maximum aperture of f/1.5, which is pretty high, making it perfect for afternoon and nighttime shoots. It measures  3.27 x 3.04 inches and weighs 25.2 ounces, making it lighter than the  Sony FE 70-200mm f/2.8. 
However, it does not have a zoom feature, and the aperture ring is a bit difficult to operate. Overall though, the lens has been praised by professional videographers for its performance. 
Pros:
It has an aperture of f/1.5, so you can film in low-lit environments
Focusing is smooth, and images are sharp
Light and easy to carry
Affordable
Cons: 
It does not have a zoom feature
It is not equipped with image stabilization, so distortion can happen
The aperture ring is difficult to adjust
Rokinon Cine DS DS35M-C 35mm T1.5 AS IF UMC Full...
Full frame coverage with aperture range of T1.5 - T22
New DS line that is color matched with other Rokinon DS lenses and have unified gear and aperture...
63.1 degrees angle of view on full frame cameras & 40.8 degrees angle of view on APS-C
Canon EF 50mm f/1.8
Wedding videographers need to have one 50mm optical gear, and the Canon EF 50mm f/1.8 is the best choice. It is one of the best lenses with the needed focal length, it produces high-quality results, and it is very affordable. If you wish to take beautiful close-ups and depth of field, this is the perfect lens for you.
The technical specs are impressive. It has continuous autofocus, and it is equipped with a stepper motor. The lens has a focusing distance of 0.35m, a maximum magnification of 0.21, and amazing quality of low-light shots, making this lens perfect for sunset shoots. 
The lens measures 2.72 x 1.55 inches and weighs 5.6 ounces, making it the lightest and smallest lens on the list. Unfortunately, it does not have image stabilization, like the Sony FE 70-200mm f/2.8, so it is best to use it with a tripod or a stabilizer. 
The focus is slow, so if you will use it during the ceremony it will take time before the subject is seen clearly in the middle of the frame. The edges of the frame get blurry when maximum aperture is used, but the subject remains clear. 
Pros:
Creates sharp images with the focal length of f/1.8
Lightweight 
Very affordable
Cons:
No image stabilization, tripod, or stabilizer needed 
Focus time is slow
Edges get affected at wide aperture
Canon EF 50mm f/1.8 STM Lens
50 millimeter focal length and maximum aperture of f/1.8
Great for portraits, action, and nighttime photography; Angle of view (horizontal, vertical,...
Minimum focusing distance of 1.15 feet (0.35 meter) and a maximum magnification of 0.21x
Features to Consider in Lenses for Wedding Videography
For wedding video purposes, one good lens is not enough as you will have to cover the whole event. In order to get the result that you want, you will need to find the right equipment and the right angle. Before buying the best lenses for wedding videography, there are features that you will need to consider.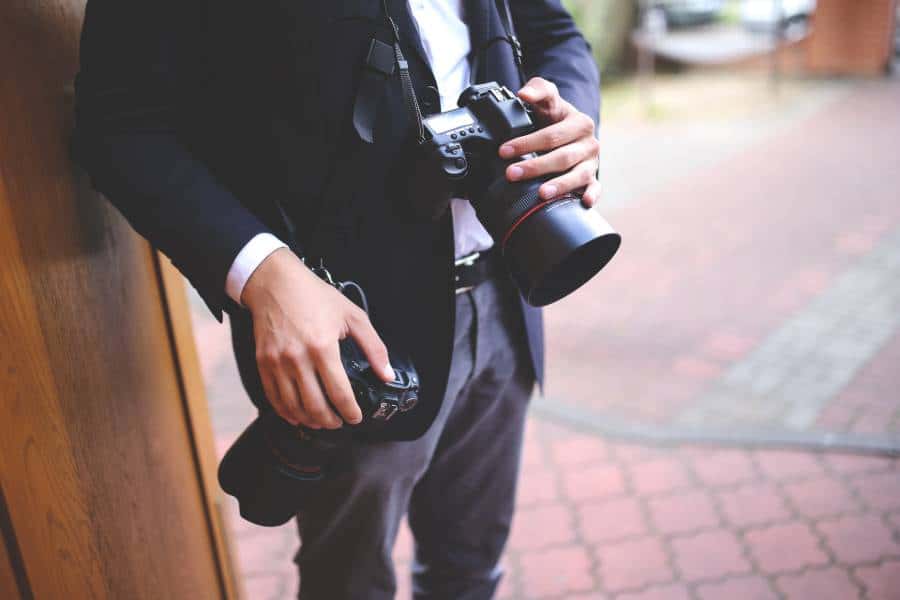 Image Stabilization
Videography requires you to work fast, which means there is a chance you will have to carry the camera as you won't have enough time to set up a tripod or stabilizer. 
A lens with image stabilization makes it easy to do handheld videography as it prevents visible distortion caused by a shaky camera. This is a feature that the Sony FE 70-200mm f/2.8 has. 
Fast Focus
As soon as you know what focal length is needed, it is best to consider the speed of the lens next. A fast lens is one that focuses in an instant on the subject and has a wide aperture.
There are two benefits of having a lens with a fast focus time. The first is that the wider the aperture opening, the better the amount of light that is passed through the lens sensor. This allows you to shoot in dimly lit settings. 
The second benefit is that fast lenses can increase the control over the depth of field. The depth of field becomes shallower when the aperture opening increases, thus allowing you to isolate the subject. The Sony FE 70-200mm f/2.8 and the Rokinon Cine 35mm are equipped with this feature. 
Zoom Feature
When capturing wedding ceremonies, a zoom feature on your lens is very handy. Although all lenses have a focal length, it is not enough to capture the minor details. 
That is when a zoom feature comes in. It lets you capture the most intimate details without having to be too near to the subject. The Canon EF 50mm F1.8 and the Sony FE 70-200mm f/2.8 have this feature. 
Conclusion
The type of lens that you get for wedding videography will also depend on the type of camera that you have. Remember to experiment, practice, and switch lenses so you can master the art of wedding videography.